Hyundai Venue: Air Conditioning System / Condenser. Repair procedures
| | |
| --- | --- |
| 1. | Check the condenser fins for clogging and damage. If clogged, clean them with water, and blow them with compressed air. If bent, gently bend them using a screwdriver or pliers. |
| | |
| --- | --- |
| 2. | Check the condenser connections for leakage, and repair or replace it, if required. |
| | |
| --- | --- |
| 1. | Recover the refrigerant with a recovery / recycling / charging station. |
| | |
| --- | --- |
| 2. | Disconnect the negative (-) battery terminal. |
3.

Remove the front bumper.

(Refer to Body (Interior and Exterior) - "Front Bumper Cover")
4.

Remove the front bumper beam assembly.

(Refer to Body (Interior and Exterior) - "Front Bumper Beam Assembly")
| | |
| --- | --- |
| 5. | Loosen the mounting bolts and remove the air guard (A). |
| | |
| --- | --- |
| 6. | Loosen the mounting bolts and separate the suction & liquid line (A). |
| | |
| --- | --- |
| 7. | Remove the condenser (A). |
8.

To install, reverse the removal procedure.

| | |
| --- | --- |
| • | If you're installing a new condenser, add refrigerant oil. |

| | |
| --- | --- |
| • | Replace the O-rings with new ones at each fitting, and apply a thin coat of refrigerant oil before installing them. Be sure to use the right O-rings for R - 134a to avoid leakage. |

| | |
| --- | --- |
| • | Be careful not to damage the radiator and condenser fins when installing the condenser. |

| | |
| --- | --- |
| • | Charge the system, and test its performance. |
Replacement 1. Remove the condenser. 2. Remove the cap (A) on the bottom of the condenser with a L wrench...
Other information:
Protecting your vehicle from corrosion By using the most advanced design and construction practices to combat corrosion, HYUNDAI produces vehicles of the highest quality. However, this is only part of the job. To achieve the longterm corrosion resistance your vehicle can deliver, the owner's cooperation and assistance is also required...
Replacement 1. Using a flat-tip screwdriver, lift up slightly the socket clips (A) of both ends on the lifter (B), and then remove the lifter from the bracket. 2. Push the socket of the lifter into the bracket for installation...
Categories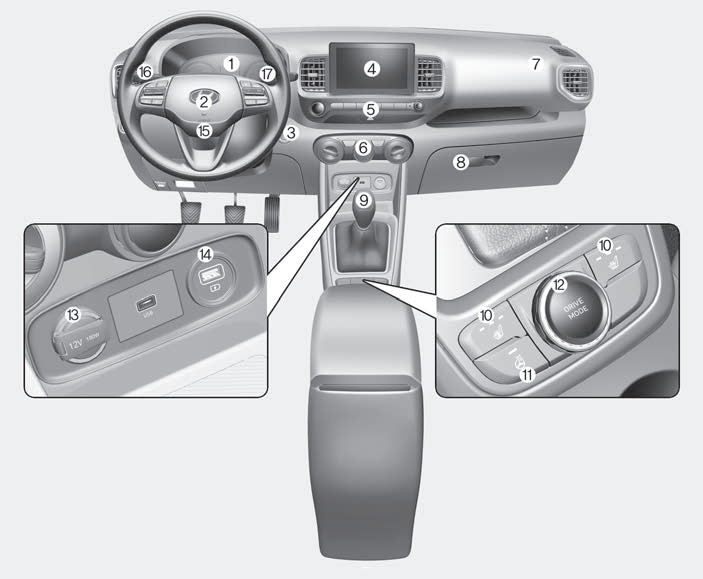 1. Instrument cluster
2. Horn
3. Key ignition switch/ Engine Start/Stop button
4. Infotainment system
5. Hazard warning flasher switch