Hyundai Venue: Front Door / Repair procedures
Glass Adjustment
| | |
| --- | --- |
| • | Check the glass run channel for damage or deterioration, and replace it if necessary. |
1.

Remove the front door trim.

(Refer to Front Door - "Front Door Trim")
| | |
| --- | --- |
| 2. | Remove the plug hole (A). |
| | |
| --- | --- |
| 3. | Loosen the glass mounting bolts, adjust the spacing of the glass (A) by moving the glass from side to side and then tighten the bolts. |
Door Striker Adjustment
| | |
| --- | --- |
| • | Make sure the door latches securely without slamming it. If necessary adjust the striker (A): The striker nuts are fixed. The striker can be fine adjusted up or down, and in or out. |
1.

Loosen the mounting bolts, adjust the striker (A) by moving it forward and backward or from side to side and then tighten the bolts (B).

Tightening torque :

(B) : 16.7 - 21.6 N.m (1.7 - 2.2 kgf.m, 12.31 - 17.62 lb-ft)
| | |
| --- | --- |
| 2. | Tap on the striker with a plastic hammer to adjust the striker. The striker will not move much, but will give some adjustment. |
| | |
| --- | --- |
| 3. | Hold the outer handle out, and push the door against the body to be sure the striker allows a flush fit. If the door latches properly, tighten the screws and recheck. |
Door Position Adjustment
| | |
| --- | --- |
| • | After installing the door, check that the body fits flush with/parallel to all the edges of front door. Check that the door and body edges are parallel. Before adjusting, replace the mounting bolts. |
| | |
| --- | --- |
| 1. | Check that the door and body edges are parallel. |
| | |
| --- | --- |
| 2. | Place the vehicle on a level surface before adjusting the doors. |
3.

Adjust the hinges (A) :

| | |
| --- | --- |
| • | Loosen the door mounting bolts slightly, and move the door in or out until it flush with the body. |

| | |
| --- | --- |
| • | Loosen the hinge mounting bolts slightly, and move the door backward or forward, up or down as necessary. |

| | |
| --- | --- |
| • | Place a shop towel on the jack to prevent damage to the door when adjusting the door. |

Tightening torque :

(B) : 21.6 - 26.5 N.m (2.2 - 2.7 kgf.m, 15.9 - 19.5 lb-ft)

(C) : 23.5 - 31.4 N.m (2.4 - 3.2 kgf.m, 17.4 - 23.1 lb-ft)
Components 1. Front door trim 2. Front door module 3. Front door quadrant inner cover 4. Front door hinge 5...
Other information:
Removal [Ventilation Blower] 1. Disconnect the negative (-) battery terminal. 2. Remove the front seat. (Refer to Body - "Front Seat Assembly") 3. Remove the blower duct (A)...
Description Heated Oxygen Sensor (HO2S) consists of zirconium and alumina and is installed on upstream and downstream of the Warm up Catalytic Converter (WCC). After it compares oxygen consistency of the atmosphere with the exhaust gas, it transfers the corresponding voltage signal to the ECM...
Categories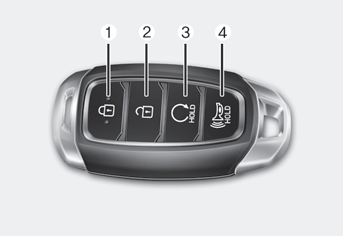 Your HYUNDAI uses a Smart Key, which you can use to lock or unlock the driver and passenger doors or the rear liftgate.
1. Door Lock
2. Door Unlock
3. Remote start