Hyundai Venue: Front Door / Repair procedures
Glass Adjustment
| | |
| --- | --- |
| • | Check the glass run channel for damage or deterioration, and replace it if necessary. |
1.

Remove the front door trim.

(Refer to Front Door - "Front Door Trim")
| | |
| --- | --- |
| 2. | Remove the plug hole (A). |
| | |
| --- | --- |
| 3. | Loosen the glass mounting bolts, adjust the spacing of the glass (A) by moving the glass from side to side and then tighten the bolts. |
Door Striker Adjustment
| | |
| --- | --- |
| • | Make sure the door latches securely without slamming it. If necessary adjust the striker (A): The striker nuts are fixed. The striker can be fine adjusted up or down, and in or out. |
1.

Loosen the mounting bolts, adjust the striker (A) by moving it forward and backward or from side to side and then tighten the bolts (B).

Tightening torque :

(B) : 16.7 - 21.6 N.m (1.7 - 2.2 kgf.m, 12.31 - 17.62 lb-ft)
| | |
| --- | --- |
| 2. | Tap on the striker with a plastic hammer to adjust the striker. The striker will not move much, but will give some adjustment. |
| | |
| --- | --- |
| 3. | Hold the outer handle out, and push the door against the body to be sure the striker allows a flush fit. If the door latches properly, tighten the screws and recheck. |
Door Position Adjustment
| | |
| --- | --- |
| • | After installing the door, check that the body fits flush with/parallel to all the edges of front door. Check that the door and body edges are parallel. Before adjusting, replace the mounting bolts. |
| | |
| --- | --- |
| 1. | Check that the door and body edges are parallel. |
| | |
| --- | --- |
| 2. | Place the vehicle on a level surface before adjusting the doors. |
3.

Adjust the hinges (A) :

| | |
| --- | --- |
| • | Loosen the door mounting bolts slightly, and move the door in or out until it flush with the body. |

| | |
| --- | --- |
| • | Loosen the hinge mounting bolts slightly, and move the door backward or forward, up or down as necessary. |

| | |
| --- | --- |
| • | Place a shop towel on the jack to prevent damage to the door when adjusting the door. |

Tightening torque :

(B) : 21.6 - 26.5 N.m (2.2 - 2.7 kgf.m, 15.9 - 19.5 lb-ft)

(C) : 23.5 - 31.4 N.m (2.4 - 3.2 kgf.m, 17.4 - 23.1 lb-ft)
Components 1. Front door trim 2. Front door module 3. Front door quadrant inner cover 4. Front door hinge 5...
Other information:
Inspection 1. Check the resistance of the ambient temperature sensor between terminals 1 and 2 whether it changes by changing the ambient temperature. 1. Ambient Sensor (+) 2...
..
Categories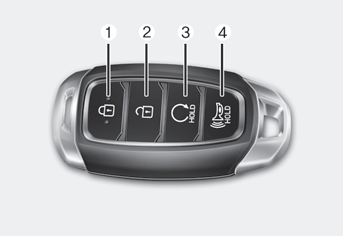 Your HYUNDAI uses a Smart Key, which you can use to lock or unlock the driver and passenger doors or the rear liftgate.
1. Door Lock
2. Door Unlock
3. Remote start